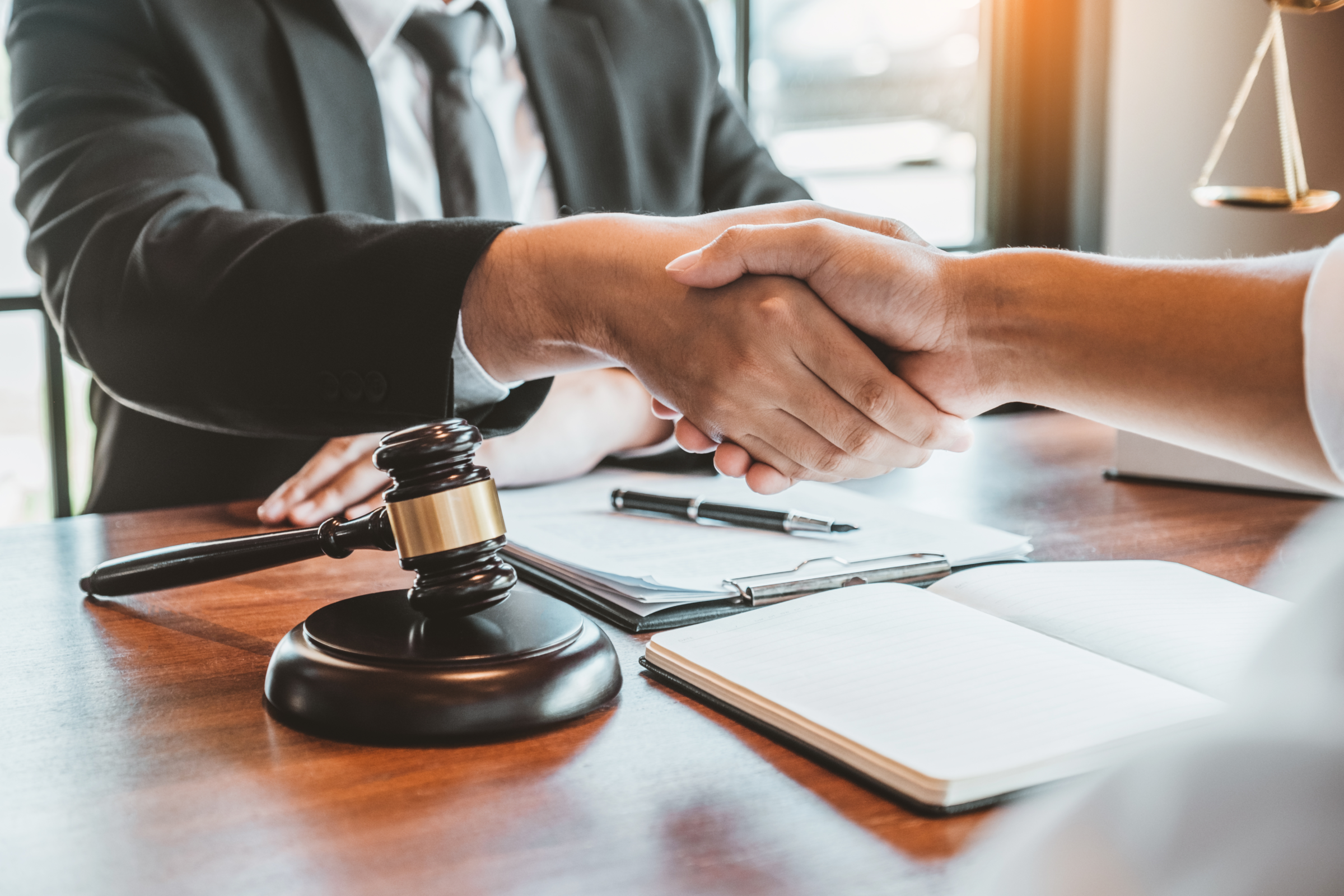 A recent article we wrote covered an ICNZ Speaker Series webinar, which looked at insurance fraud in tough economic times. Our global panellists shared how their organisations were tackling the growing issue, and how insurance fraud is different this year from other insurance fraud peaks following previous economic recessions.
With many countries around the world now officially in recession, it was great to hear from Insurance Bureau Canada, Insurance Fraud Bureau (UK) and the US National Insurance Crime Bureau (NICB). We were particularly interested to hear some common themes coming through from these panellists, which correlate with the work on insurance fraud we're doing here in New Zealand. This article will deep dive into the core themes of collaboration and data sharing.
What does collaboration mean for insurance fraud?
Although collaboration was a key theme, insurance fraud organisations across the world have a different sense of what collaboration means. Police, government and justice departments have differing levels of focus when it comes to insurance fraud, and insurance companies have different levels of collaboration with each other in the fight against insurance fraud. We'll take a look at the global landscape of insurance fraud collaboration, before taking a look at what New Zealand is doing.
Insurance fraud collaboration in Canada
Maria Dal Cin, from IBC stated that she believed insurers themselves have the biggest role to play in managing fraud. However, Maria also believes that regulators have a key role, as no single organisation can fight fraud on its own. The IBC thinks that sharing and learning from industry stakeholders is key to managing insurance fraud.
A natural progression from a collaborative approach to insurance fraud is increased vigilance of fraud scams. Industry stakeholders are motivated in targeting large, organised crime groups that flourish in times of uncertainty. Canada has seen increased rates of online scams, auto insurance and healthcare insurance fraud. Vigilance is also needed to clamp down on opportunistic fraud in this current economic climate – increasing numbers of desperate individuals are seeking one-off financial gains.
Collaboration across our wider society is also important. Advocacy from government and police who take a hard line with fraud offenders will help to reduce fraud in the long term. Consumer awareness of insurance fraud and willingness to report fraud is also part of the puzzle. Insurers' ability to work together on fraud is also key to managing insurance fraud both now and in the future.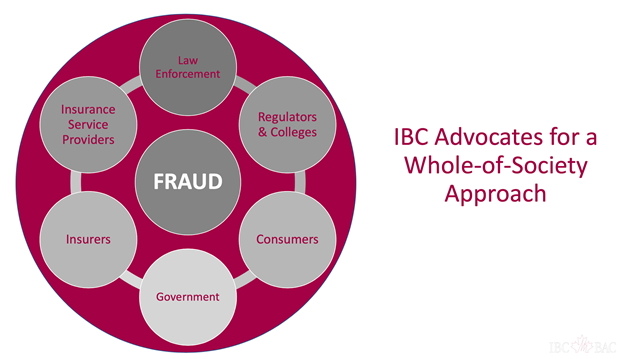 Insurance fraud collaboration in the United Kingdom
For Stephen Dalton, from IFB (UK), the key to collaboration was insurers working closely with 'disruption partners', including industry regulators, insurers and government departments. The UK has also introduced tools for collaboration for use by insurance industry members, such as the Insurance Fraud Register. In the UK, the Police have a dedicated fraud team which certainly helps identify fraud and exposes new fraud trends in the industry.
ABI UK explains in a little more detail how collaboration works in the UK insurance sector.
Internal Collaboration – internal insurance teams talking to each other and ensuring ongoing process improvement are key to keeping on top of insurance fraud and reducing the risk of fraud. Fraud trends and patterns are also important to share internally.
Industry Collaboration – IFB UK members can access the national SIRA database which tracks fraud and financial crime, in addition to their Insurance Fraud Register.
Collaboration outside the insurance industry – it's important to understand that fraud can happen across multiple industries, fraud is not just limited to insurance. In fact, insurers can benefit from understanding the wider fraud landscape. The UK government has a National Fraud Initiative, which insurers are able to access to match data sets across indicators from other sectors such as deceased records.
Insurance fraud collaboration in the United States
Aaron Soline, National Insurance Crime Bureau (NICB) explained that the NICB is another fraud prevention organisation, that collaborates with a wide range of sectors to prevent and combat insurance fraud and crime. The NICB works with law enforcement agencies, technology experts, government officials, prosecutors, international crime-fighting organisations and the general public.
The Insurance Information Institute provides details about the federal and state level of fraud collaboration. At an insurer level, most insurers have special investigation units to identify and investigate fraud, with more serious cases involving large-scale criminal operations referred to the NICB who act as liaisons between insurers and law enforcement agencies.
US insurers have also created a National Fraud Academy with the FBI, NICB and others, to educate and train new fraud investigators. At a state level, most states now have Fraud Bureaus which allows easier prosecution of cases of insurance fraud.
What does data sharing mean for insurance fraud?
Globally, insurers are increasingly willing to share fraud data. As organised crime groups become more sophisticated, a more technology-based system is part of the solution. Increasingly, we're seeing data sharing across industries (e.g. finance and insurance) and between government and insurers (e.g. access to deceased records).
It's not just the data sharing that is important though. It is sharing of insurance fraud insights and trends that will also be key to keeping abreast of fast evolving insurance fraud techniques.
A QBE Europe article states that "Combating fraud will increasingly be a battle fought with data and intelligence." Technology such as artificial intelligence, predictive analytics and machine learning will be the tools of the future for insurers. Data sharing and combining new technology innovation will help to identify and prevent insurance fraud in the future. Automating fraud detection and the use of data scientists to mine information and predict fraud will be extremely powerful tools, when combined with collaboration across our wider society.
How does the NZ insurance industry treat collaboration and data sharing?
Like many other countries, NZ has increasingly seen the value in collaboration and data sharing. We strongly believe that our insurers' ability to work together on fraud will lead the way to managing insurance fraud now, but importantly, in the future too.
In 2019, the Insurance Council of NZ (ICNZ) created the Insurance Fraud Bureau (IFB) to detect and deter insurance fraud in NZ. The IFB is constantly developing relationships with many organisations that have an interest in detecting and preventing fraud including Police and government departments.
Similar to other countries, NZ has an Insurance Claims Register, which has been in place for over 20 years. The register allows insurers to check the accuracy of data provided by policy applications and claims. It can also access claims history and is used by insurers for the specific purpose of checking for fraud when underwriting new business or processing insurance claims. This important data sharing tool is helping the fight against the increase in insurance fraud we're seeing in NZ.
A mix of collaboration across the insurance industry and amongst society, combined with technology tools, data sharing and tougher legislation to prosecute fraudsters, will help us to minimise insurance fraud. We need to remain proactive in this fight, and profile our successes. Maintaining and developing working relationships with similar organisations across the world, will further our efforts in detection and prevention, particularly as organised crime and opportunistic fraud extend outside their country of origin.