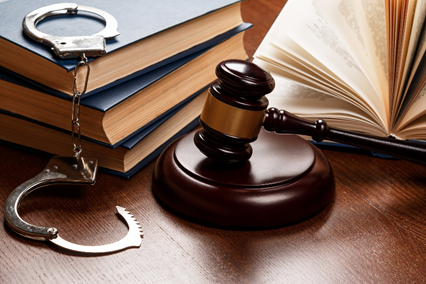 We know from experience that during tough economic times, we see a rise in fraud, and insurance fraud is no different. Our most recent ICNZ Speaker Series webinar tackled this issue with a panel of international experts well versed in insurance fraud trends. Many countries around the world are now officially in a post-COVID-19 recession. It's important to look at historic learnings and understand how this has influenced fraudulent activity. As insurance fraud is a cost to us all, it's crucial that we anticipate the increase in fraud, fraud behaviours, trends and patterns, and how other countries are preparing or undertaking counter fraud measures.
We'll also be sharing the results of our live webinar polls throughout this article.
Our panel of experts included:
Maria Dal Cin (Senior Vice President Insurance Fraud & Operations) Insurance Bureau of Canada
Bryan Gast (National Director, Investigative Services) Insurance Bureau of Canada
Stephen Dalton, Head of Intelligence and Investigations IFB (UK)
Aaron Soline (Director, Data Analytics) National Insurance Crimes Bureau (NCIB)
Question 1. Who should be tackling and leading the fight against insurance fraud?
Answer 1. Our NZ based webinar attendees believe
The Insurer should lead the fight against insurance fraud,
rather than government, police or the Insurance Fraud Bureau.
Our webinar kicked off with Maria Dal Cin and her insights on the Canadian approach to fighting fraud in a post-COVID-19 world. Interestingly, Maria started off by agreeing with our New Zealand audience that Insurance Bureau of Canada (IBC)  members also agree that insurers have the biggest role to play in managing fraud, however, many believe that regulators also play a key role. Maria believes no single organisation can fight fraud on their own – it needs a collaborative approach. Insurance fraud is an important issue in Canada with 9-18% of insured premiums attributed to fraud. 
IBC is well established and has a large range of insurance fraud products and services to support their members.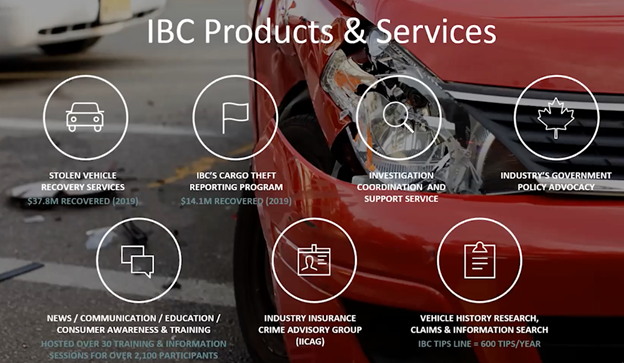 How is Insurance Bureau of Canada tackling fraud?
The increase of insurance fraud is likely in a post-COVID-19 world. Canada has found that insurance fraud tends to increase if the unemployment rate remains high over an extended period of time. Maria reiterated the psychological elements that make up the Fraud Triangle, which we discussed in a recent article. Maria also reinforced that fraud is not victimless, as everyone ends up paying higher insurance premiums as a result of fraud.
Key insurance fraud trends in Canada:
More claim referrals to Special Investigation Units
Criminals target multiple lines of business & multiple insurers
The IBC are looking at a 3-pronged approach to fighting insurance fraud:
Collaboration – sharing and learning from industry stakeholders. Insurers are increasingly willing to share fraud data which is encouraging.
Increased vigilance – more scanning of fraud scams began at the start of the pandemic. Of particular interest are large, organised criminal groups that flourish in times of chaos and uncertainty – online scams, auto and healthcare fraud are popular. Opportunistic fraud is also on the rise with desperate individuals seeking a one-off financial gain.
Advocacy – government and police who are tough on fraud will help reduce fraud over time. Tougher penalties are needed for fraud offenders.
There is no doubt that we are in a time of great uncertainty, with new threats and challenges ahead as traditional and emerging types of insurance fraud increase. We need to share data and best practices. To keep on top of fraudulent activity, we need to optimise the advantages we have in collaborating, learning and sharing from each other (across our society), not just within the insurance industry.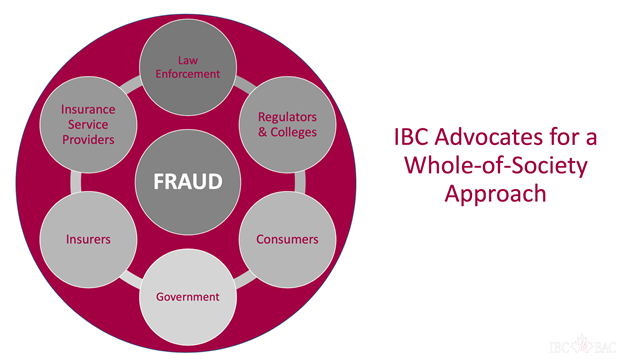 Bryan Gast (National Director, Investigative Services) followed Maria's presentation and brought his law enforcement experience to inform his view of insurance fraud and the top fraud scams being seen by Canadian Insurers. While there is lower volume of claims the proportion of claims going to the Special Investigation Unit is growing. Of these claims, cyber fraud is significant.
Canada's top seven fraud scams:
Ghost Brokers – sell fake auto and health insurance policies.
False Vehicle Identification Numbers – re-registration of trucks and switching coverage to a new insurer.
Staged Collision & Planned Auto Theft – organised crime groups are advertising online for legitimate drivers to help them with this type of fraud. Car disposal and fake injury claims are tied up in this type of fraud too.
Vehicle Cleaning, Rental and Storage – mechanics and rental car companies abused the levels of fear around COVID-19 and inflated cleaning and storage costs, and rental car fees.
Vehicle Finance Fraud – fraudulent documents are presented to purchase expensive vehicles, then the cars are shipped offshore and sold.
Telemedicine – claims are made for false appointments, inflation of the duration of the online appointment, provider's credentials are stolen and misused. It is expected that this type of fraud will grow rapidly as it's hard to monitor.
Cyber fraud and data breaches – cyber risk has a global impact – borderless crimes that move quickly and impact multiple countries in a short space of time. Cyber risk is 15 times more likely than fire or theft fraud. A recent IBC survey of Canadian SMEs showed that 44% had no cyber defenses.
Question 2. Should Insurers overtly celebrate anti-fraud initiatives
and success stories?
Answer 2. Our NZ based webinar attendees believe we should. It shows the public that Insurers take protection of
consumer money seriously.
Stephen Dalton, from the Insurance Fraud Bureau (IFB) UK followed his Canadians counterparts and shared the UK experience of fraud in times of recession and its response. Fraud now makes up 33% of reported crime in the UK – almost 4 million fraud incidents were reported in 2019, but the industry believes fraud is under reported. The UK has seen historic incidents of the UK's GDP falling (ie. going into recession) and consequently, fraud spikes. The 2020 recession has seen the largest GDP drop in decades and this may have a significant impact on increasing general insurance fraud levels as citizens experience financial difficulty.
General insurance fraud breakdown for the UK
General insurance fraud in the UK is split across multiple products, with motor insurance accounting for more than half of fraudulent claims. Motor insurance fraud can include accidental damage to vehicles, staged collisions, and the personal injury claims that flow on from these.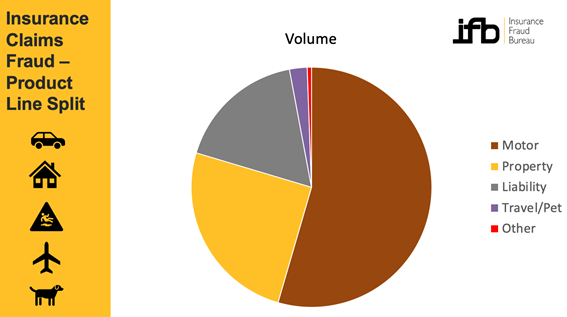 The UK's fraud response
The IFB (UK) approach is a three stage approach, that includes:
Detection – by the IFB, through data sharing across multiple industries and working with 'disruption' partners – industry regulators, government departments etc
Enforcement – by the dedicated fraud team within the Police
Prevention – using the Insurance Fraud Register which is shared by insurance industry members.
Key insurance threats in the UK:
Motor Insurance

Claims – staged incidents, exaggerated loss, acting without instruction, injury fraud
Application – ghost broking, identity theft, first party misrepresentation
Enabling activity – data farming

Property Insurance

Exaggerating losses
Fabricated incident
Contrived losses

Liability Insurance

Acting without instruction
Exaggerated loss
Fabricated incidents
Like Canada, the UK fraud model is all about collaboration – working with regulators, insurers and disruption partners. The sharing of data, insights and trends is key to the success of tackling fraud in the UK.
Question 3. What type of insurance fraud increases the most
on a percentage basis following a recession?
Answer 3. Our NZ based webinar attendees believe
vehicle fraud is at most risk of increase during a recession.
Aaron Soline, National Insurance Crime Bureau (NICB) shared his insights on the correlation of the GDP, unemployment and general insurance claims.
Much like Canada and the UK, 'questionable claims' typically increase in line with the slowing down of GDP but claims overall decrease. However, this COVID-19 downturn is unusual in the US, in that the unemployment rate is not gradual in this recession, instead the unemployment rate has fallen astronomically, in line with GDP dipping significantly. So far, the US government benefits have cushioned the effects of this.
Key insurance fraud trends in the US
The 2008 recession saw significant increases in vehicle theft and false and exaggerated injuries. Fictitious loss and prior loss/damage also trended. This year, the US has seen increases in lack of cooperation from the insured (using COVID-19 as an excuse and to their advantage), prior loss/damage has also spiked. Suspicious loss and theft is also on the rise.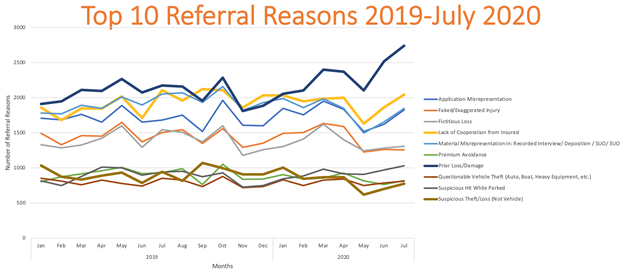 Is the US seeing the same trends in increased vehicle theft and fraud?
Certainly, the US is currently seeing an increase in insured vehicle theft, as was also seen in the 2008 recession.
Other types of insurance fraud being monitored in the US
Medical provider fraud is an area being monitored – this type of fraud doesn't tend to happen at the beginning of a recession, but rather at the end of a recession due the lag in processing these claims.
In summary, it appears that there are many similarities across the issues presented by insurance fraud, across the developed world. Collaboration across industries and regulators is widely seen to be key to help navigate the increasing insurance fraud that we're seeing. Approaches to solving the fraud problem are proactive and will certainly gain traction as insurance fraud becomes more of an issue for the likes of police and the legal system. Sharing of information in open forums like this webinar will certainly help to shed light and insights on this complex international issue.