Insurers need to make sure they act promptly on exaggerated and misrepresented claims, so that they deter claimants from continuing these practices. Insurers also need to monitor any trends in false claims, so they can educate their members, and alert their staff to be vigilant. An example of this could be an insurer noticing an increase in claims when a new iPhone comes onto the market, and people try to 'upgrade' to the newest model by falsely claiming their current phone is broken or damaged.
Top six fraud detection strategies
Ever wondered how insurers keep on top of monitoring fraudulent insurance claims? There are a number of tactics that can be used. Our Insurance Fraud Bureau (IFB) Whitepaper outlines the top six strategies our insurance members use in New Zealand:
Specialist claims training — insurance claims staff are provided fraud detection training and if any suspicions arise, the claim(s) are referred to specialist claims teams or investigators for closer review.
Specialist investigators — insurers have teams of specialist claims investigators. These expert staff undergo thorough insurance training and fraud detection training. They are the front line of the fraud detection sector for the insurance industry in New Zealand and can often be ex-detectives or private investigators. Examining claim sites and conducting financial reviews to understand potential triggers for initiating fraud are key functions these investigators will employ.
Insurance Claims Register (ICR) — the general insurance industry has a shared register of insurance claims (ICR), which is used to check whether full disclosure of claims history has been made and whether claims for the same loss are being made from more than one insurer. The ICR has been operating since 1999 and has over 8.6 million claims in the database.
Zero tolerance of insurance fraud — insurance companies may prosecute individuals through the courts when there is clear evidence that a claim is fraudulent. Specialist investigators are key to sourcing and securing fraudulent claim evidence for use in prosecution.
Specialist fire investigators — arson is a major problem in insurance claims and for almost all large fires, insurers appoint specialist fire investigators to check for suspicious circumstances that might indicate fraud.
Fraud reporting — the Insurance Fraud Bureau has an online form and freephone number (0508 FRAUDLINE – 0508 372 835) available for the public to email/call and leave information about potential insurance fraud instances. All information given is confidential and can be made anonymously, and no details are passed onto the alleged fraudster.
In addition to the above strategies, our recent article also shared some additional ways to combat fraud:
Data analysis – by reviewing unusual patterns in the types of claims coming through, claim frequency and new claims, claims teams can be alerted to new trends in fraudulent claims.
Behavioural patterns are also assessed to explore trends: claimants not being stressed about making a big claim or making changes to a policy shortly before claiming on it.
Data automation technology will both help the fight against insurance fraud and exacerbate instances of data manipulation and identity fraud. Digital applications including AI, Internet of Things and blockchain will support the prevention and detection of fraud in the future. We do know from experience, that as new ways to detect fraud become widely available, fraudsters evolve their strategies to move with the environment.
How our members use the Insurance Claims Register
A key tool for our insurance members is the Insurance Claims Register (ICR). Once an allegation of insurance fraud is reported to the Insurance Fraud Bureau (IFB), it is checked against the ICR (where relevant) to confirm the identity of the person that has been reported. The allegation will then be passed on to the affected insurer, who will decide whether it warrants further investigation.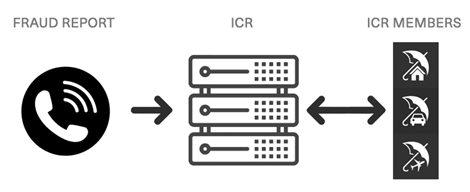 Your insurer can request your help to investigate a claim
Did you know that your insurance policy contract includes your agreement to assist your insurer if investigating any claims? If you are requested by your insurer to provide additional information to process your claim, or support your claim, and you refuse, your insurer may decline your claim and cancel your insurance policy. The Fair Insurance Code outlines your responsibilities, as well as those of your insurer.
Assistance could also extend to providing personal digital information and account information. An example of this could be using an online marketplace such as Trade Me or Facebook Marketplace to sell goods that you may have stated were lost or stolen, or to purchase items secondhand that you later claim were brand new. Your insurer can seek your permission to access your online trading history. If you do not provide your permission, your insurer may cancel your claim or policy.
The importance of tackling insurance fraud
Insurance fraud monitoring and management continues to be a focus for New Zealand insurers. In addition to ensuring that the cost of fraud doesn't escalate, it is important for consumers to see the insurance sector taking fraud seriously.
Globally, insurers are increasing their levels of collaboration – working together to fight fraud and share fraud trend information and successful strategies. By making fraud harder to commit, it will deter fraudsters and help the insurance industry manage the cost of insurance.
Know people making dishonest insurance claims?
Do the right thing! Do your friends and family a favour and tell them not to. Remember, you can also report insurance fraud by visiting our website. You can make reports anonymous if you wish.